From Panther to Tiger and National Championships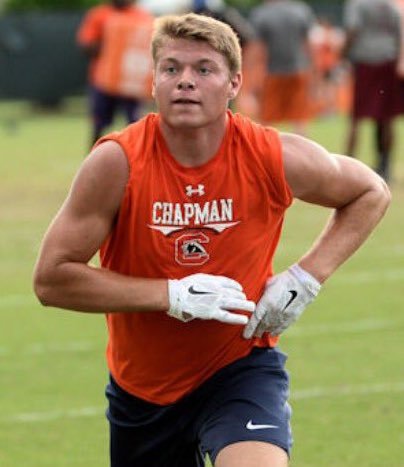 Hang on for a minute...we're trying to find some more stories you might like.
From growing up in a small town like Inman with a student body of 900 at Chapman High School, to a college town with 20,000 people at Clemson University is a bit of a change for anyone. The atmosphere is completely different just walking around campus, 2016 Panther graduate Landon Holden spent his life ready to embrace the change.
"I always knew I wanted to go to Clemson. I grew up around it and several of my family members went there," Holden said.
After playing as a linebacker for Chapman, continuing his love for football with Clemson became a goal of his.
"I enjoy competing and playing the game, and have since I was a little boy, so I knew I wanted to continue," Holden said.
Holden had a preferred walk-on position but had to wait until January of 2016 to officially begin once some of the other players graduated. When it came time for him to finally fulfill this dream of his, the wow-factor was nothing less than amazing.
"Seeing the locker rooms and getting to play with people that I had looked up to and seen on TV was so surreal for me," Holden said. "Running down the hill for the first time in our game against Kent State was amazing and such an exciting, crazy moment."
Despite the fact that Holden had looked forward to this for most of his life, there was an apparent difference from Chapman football to Clemson football that brought on some fear, and Holden had to face that head-on.
"The biggest thing for me was getting over the mental part of it," Holden said. "I was nervous and intimidated, but I had to remind myself that I'm supposed to be here, and I'm also a good player and deserve to be on the team, too. More than anything, I had to accept the fact that it was my job to go in and work hard, just like every other guy was having to in order to get on their level, and realizing that I can compete."
Studying harder for classes and practicing harder for the team, he got to continue basking in this dream of his, and the good and bad was all worth it.
Joining the team after a National Championship win in 2016, Holden got to join the team in Tampa, FL in 2017 for a chance to return to the National Championship. While they took a devastating loss, the bounce back was worth it.
"We knew what we wanted, and worked hard to get it," Holden said.
On Monday, Jan. 7 the Clemson Tigers traveled to Santa Clara, CA and brought home the National Championship with a 44-16 win over Alabama.
"The feeling was amazing to every one of us. Getting to celebrate with all the guys was so much fun and I was so happy and excited to see my family afterward," Holden said. "It really was an indescribable joy that we had. It was amazing."
These big moments are surreal and Holden will them remember forever, but it all started here in Inman and on the Chapman Panthers field.
"Playing for Chapman was amazing. I loved it, the bond I had with the guys and the lifelong friends I made," Holden said. "Chapman was a huge part of my life and a stepping stone into the time I have at Clemson."