Goodbye and thank you to The Prowl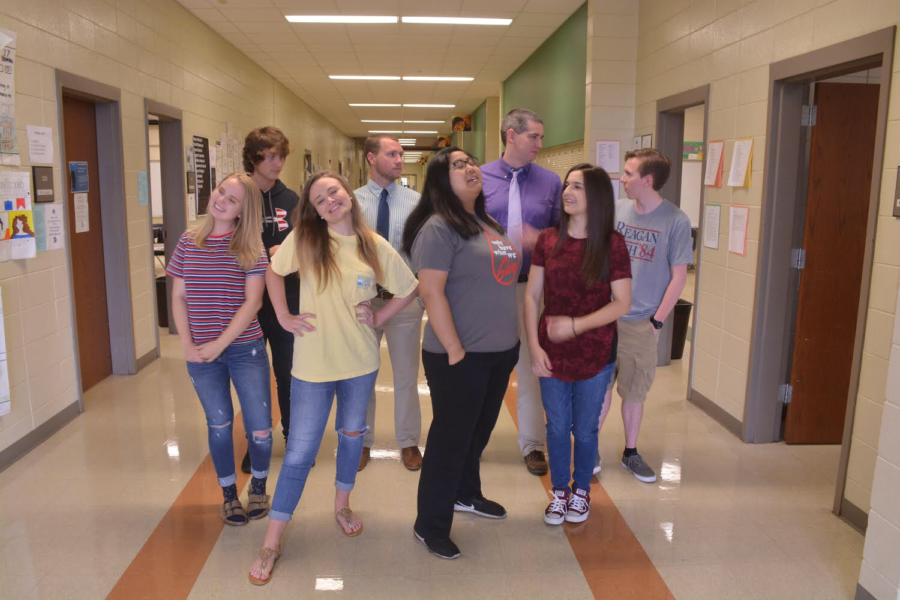 I owe a lot to The Prowl: scholarships, recognition, an internship, the chance to stand on the field at the state championship, becoming a better writer, leadership of all different types of people — the list can go on for a while. But when I look back at the past three years, it's the memories I made and people I met while on the staff that stand out more than anything.
My first experience with Chapman High School was newspaper. It was my first block class of freshman year. I wish I could say that every day since then I have been in love with newspaper and it's all I've ever known, but I quit. Dr. Timmons will still tell you it was because I was scared of him, but I continue to promise that wasn't it (although he was a bit intimidating).
I rejoined sophomore year and have loved it ever since.
From listening to Kyle Wilson's movie reviews while he drinks his coke every morning, to sitting out in the hall laughing with Cassidy Bell and Lane Penley while Crit was teaching english; from covering devastating losses to capturing triumphant wins; from crying because my mind was set on building The Prowl as much as I could, to becoming ecstatic watching people take notice in what we were doing — I've loved every second.
Some days the bad seemed to outweigh the good and I was ready to throw in the towel, but I couldn't have done it even if I tried thanks to the people that being on staff brought into my life.
Dr. Timmons, thank you. You were always there when I needed you the most. Whether I was overwhelming myself trying to put my future together or trying to get Lane to prompose, you were there. You pushed me to keep writing even when I felt like it was no good. You pushed me to keep fighting for The Prowl even when it felt like no progress was being made. You pushed me to keep leading through love even when the staff didn't care to listen or have as much passion behind what they were doing as I did. I can never thank you enough for being there when I felt completely clueless and lost while the stress of college and my future continued to weigh down on me. Even after you stopped being our advisor, you were always an email or walk to the library away. I cannot thank you enough for everything you've done for me over the past four years.
Mr. Crittendon, thank you. Even when you didn't know us and having us would mean having two classes at once, you still took us in. At the time I don't think any of us realized how much having you would help us. You've continuously pushed me to lead with purpose, write with passion and think through grace. When I came to you in tears, you were there to comfort me and repeat my famous line right back to me: "It's fine, I'm fine, everything is fine." If it wasn't for you being so willing to work alongside me to lead the staff and The Prowl, we wouldn't be where we are now. I can't say thank you enough for always trusting and believing in whatever crazy ideas I had.
The staff, thank you. Lane, Cassidy (both of you), Adara and Kyle — we will always be the originals to me. You each trusted me to lead you and went along with my crazy ideas. Even if things weren't going right in my life, I knew that as soon as I stepped into newspaper someone would make me laugh. Whether it was Lane's "adventurous" weekends with his older friends, Cassidy Bell quoting Vines, Cassidy Brackett struggling with the crossword or Adara debating with Lane, Crit and Kyle about politics or eating meat just to get them riled up  — you each played such a huge role in my time on newspaper. We weren't just staff members together, we were friends and became a family. To the ladies on staff now — you make me laugh constantly, and occasionally question why I chose to stay editor. Just kidding. Sorta. You each have such unique talents and personalities, and I hope you continue to embrace that. You've each help me grow more than you know, and for that I just want to say thank you.
To staff and students Chapman High School, thank you for going along with my interviews, trusting me to cover your important events and giving me opportunities and responsibilities. Because of my time here, I know I am prepared for whatever college and life throws at me.
To my family, thank you for listening to my rants and hyping up my articles. You've walked with me through everything and I couldn't have done it without you. I love you.
With all of that being said, I guess it's time to pass the torch.
To the future editor: you're going to do amazing things. At times you'll feel like you're the only person that cares — you're not. There are students, parents and teachers that notice what you're doing. They might not be vocal about it, but they see it. I know I will be watching from USC, and if you ever need something please don't hesitate to ask.
To the future staff: keep fighting for this newspaper. You will hear "Wait, we have a newspaper?" what feels like every single day. Keep fighting. I have seen not only visitor counts on the website rise, but people simply recognizing The Prowl and the hard work we put into it. Please don't let it fade away. Whatever you do, do it with passion.
There have been lots of laughs and tears (sorry about all that, I'm just emotional) and many memories and friendships made that I will cherish forever. Thank you for everything. I guess this is goodbye, for now.