Hollis wins national yearbook adviser award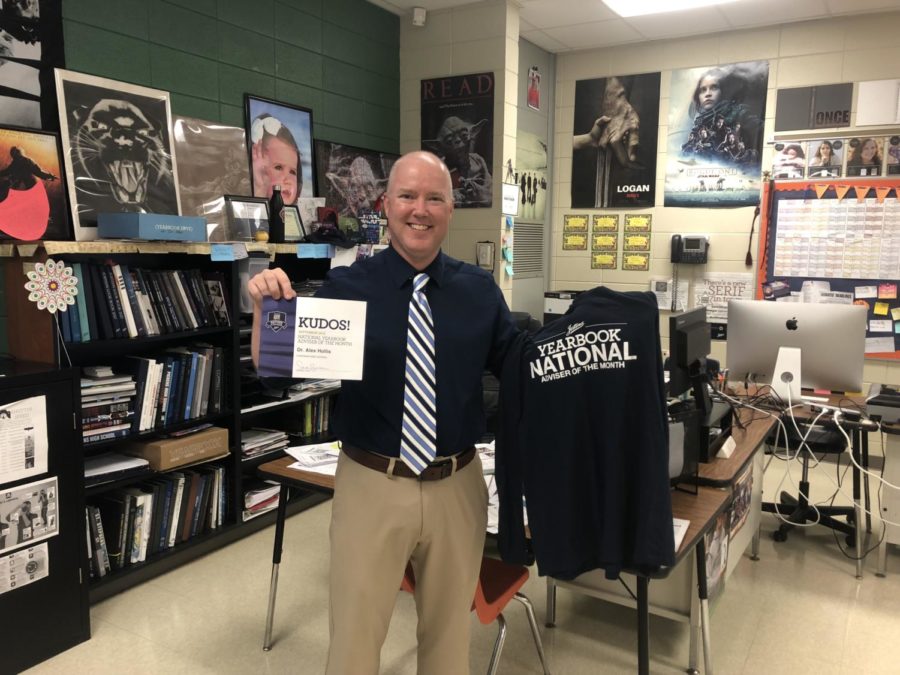 When Panorama Social Marketing and Manager Sidney Medlin came across Jostens' "Adviser of the Month" award, she just knew she had to nominate her adviser, Alex Hollis. 
Luckily, she did, and he won the national award for the month of September.
Hollis has been teaching for 20 years, all of which have been at Chapman, and he is in his sixth year as adviser.
Despite having some experience with high school publications, Hollis said he was anxious about accepting the responsibility of being an adviser.
"It was something that was completely foreign to me," he said. "I worked on a literary magazine when I was in high school, so I had a little bit of an idea of how the process of putting the publication together worked, but not on the scale of a yearbook."
In addition to not fully understanding the scale of creating a yearbook, Hollis said there were unknowns about the people he worked with. 
"I didn't select my staff the first year," he said. "I was kind of going in last minute to a staff that had already been selected and had already worked together, students that had worked together on previous books but had not worked with me."
Despite these challenges, he realized quickly that he enjoyed being working as a yearbook adviser.
"I really enjoyed it a lot, and it had a lot of aspects that really worked with my organizational skills and my creativity," he said. "This is a good place for me."
For Hollis, being named the Jostens Adviser of the Month was a special recognition for multiple reasons but particularly because he was nominated by one of his students.
"I think the recognition is really nice and makes me feel really great to be named (advisor of the month), but that it was also done because my students nominated me, that is the best part to me," he said. "It is not something where my qualifications did it for me. It was done because my students felt like it was an honor and recognition that I deserved, and because they nominated me and sent it into Jostens, that really made it extra special."
According to Jostens' website, the award "recognize(s) these educators and students who have embraced Jostens' Yearbook philosophies and are helping their school celebrate moments that matter."
Each year, the yearbook staff works to produce a book that helps the school do just that, and it's Hollis who leads the way. 
"We do way more than just take photos and put them in a book," Medlin said. "Hollis is really devoted to creating great yearbooks."
It is fitting that Hollis won this award this year, after producing what he calls, at least on some level, the best yearbook he's advised. 
"I don't know if I can pick a single (favorite yearbook) because they are all so unique, not just because of the year they represent but because of the people that make them, and some of those people are on multiple staffs," he said. "On a technical level, the best book is probably last year, 'Here & Now.' Just on a realistic level and on paper it is probably the best."
Assistant Principal and Journalism Liaison Ricky Pace believes that the award was well deserved. 
"Since Dr. Hollis has taken over the yearbook, we have received multiple awards the last couple of years, and he just continues to take the yearbook to another level," said Pace.  
Principal Andrew McMillian echos Pace's thoughts. 
"I am not aware of ever having this (award) before, and so it was a huge recognition for him," McMillan said. "But his is just justification for what we have always known."
For Medlin, nominating Hollis for the award was fitting given how much he does for her and the staff.
"He is not only a great teacher, but a great adviser and friend," Medlin said. "I felt like he needed more recognition for the hard work he does."