Chapman helps Jamison keep on rolling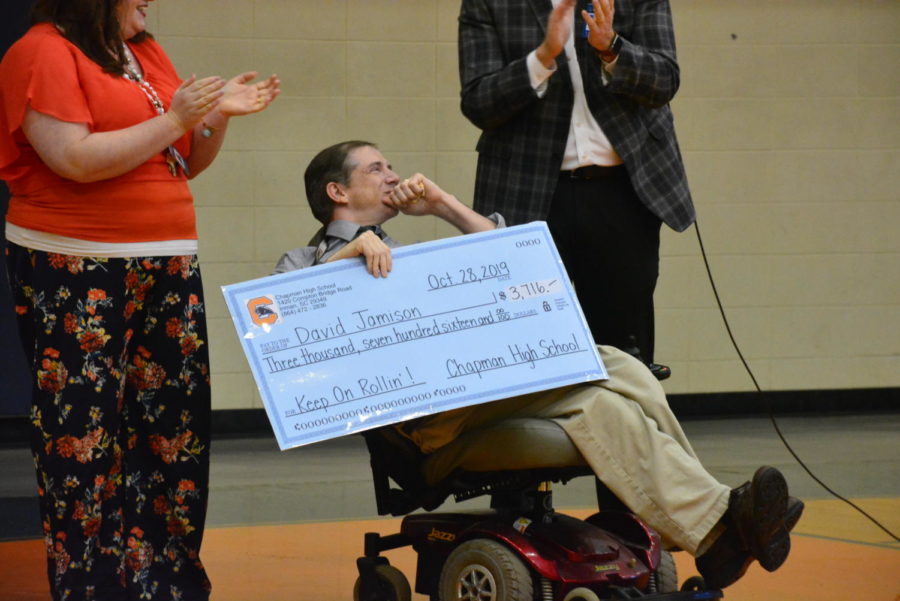 David Jamison is going to keep on rolling.
On Oct. 28, Chapman graduate and substitute David Jamison received a check for $3,716, which will allow Jamison and his family to pay the out-of-pocket expenses for a new powerchair. According to Jamison's GoFundMe, a new chair will "help prevent pressure wounds and… keep (him) being the most productive for those that (he serves) every day."
After hearing about Jamison's need, Principal Andrew McMillian decided to get Chapman involved.
McMillan allowed to teachers donate money in exchange for wearing jeans and allowed students to donate money in exchange for wearing hats. That money, coupled with money raised in some classrooms, exceeded McMillan's expectations.
"I thought maybe we could get $500, $600, and we just started going, and we got $1,000, and the next thing I know, it's $1,500 (total), and then the next thing I know, we've raised $1,200 in a single day," he said. "Today, we've raised over $3,600."
McMillan said that he wanted to help someone special to the school.
"David is a Chapman guy, he is a graduate of 1994, and we wanted to take care of our own." McMillian said. "The challenges he has been able to overcome are remarkable and we wanted to do something to help him."
Jamison, who received a surprise visit from his wife, Brittany, was overwhelmed with the act of kindness from Chapman.
"I am overwhelmed with the outpouring of love I was just shown here," Jamison said. "I'm speechless."