How Brown developed a storage problem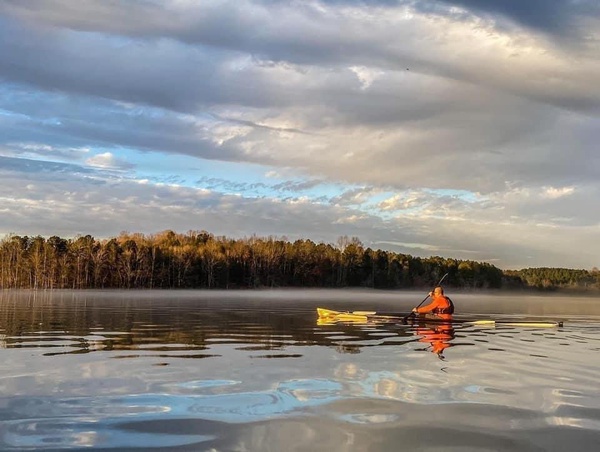 Some of you may have had him as a teacher — either currently or in the past — but did you know he is quite the craftsman?
Science teacher Fred Brown started paddling in the late 90s and has been building wooden kayaks, paddleboards and surfboards since 2013.
"I went on a sea-kayaking trip with some friends (in 2013), and on our way back, I was talking to one of my friends who is a fine woodworker, and he said he wanted to build one too, so I ordered the plans," said Brown.
Since then, Brown has built 21 kayaks, paddleboards and surfboards.
Brown builds his kayaks through a process called strip building, meaning he mills the individual pieces of wood that end up going into the kayak and usually gets to decide on the style.
He says he usually follows a set of plans he orders online but that he's designed his own before.
"I've designed my own before, but it's always better to use something you know is gonna work," said Brown.
Brown also does kayak races with his family and even some on his own.
"We do individual races and tandem races as a family and my last race was my longest race I've ever done," he said. "It was 32 miles. I did it in five hours and 22 minutes, and there was a lot of current pushing me because we were on a river, but I maintained 6 mph pace through the whole thing and that's faster than I can usually do on flat water."
Brown mentioned that he enjoys going on the water in a variety of places including Lake Cooley.
"I live on Lake Cooley, so that's my go-to for training and just getting out on the water," he said. Jocassee is one of my favorites. We have friends who live down on Lake Murray, so we go there, and the race I just did is actually on the Chattanooga River Gorge, and it was gorgeous."
Brown said that he doesn't make any money off his crafting endeavors. In fact, he still has all 21 of his kayaks, paddle boards, and surf boards.
"I still have them all. I need places to store them," he said. "People say I have a problem, and I tell them yes; it's called a storage problem."
Your donation will support the student journalists of Chapman High School- SC. Your contribution will allow us to purchase equipment and cover our annual website hosting costs.