Settle nominated as finalist for Bridge Builder Excellence Award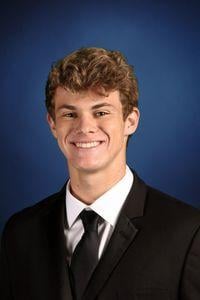 Each year, the Bridge Builder Program of the South Carolina Football Hall of Fame rewards select high school students for their "excellence in the community, in the classroom, and on the field." This year, 70 students from schools across the state were nominated, and on March 14, 10 finalists were selected.
One of the finalists was Chapman's Drew Settle, who was selected last year as a top 100 nominee. 
"It's pretty cool, honestly," Settle said. "Out of all the people in the state that are athletes, I'm just honored to be selected as the final 10. I think it's just a huge honor, a huge award, and I'm glad to be representing (Chapman)."
In order to be selected as a finalist, students must show excellence on the football field, maintain a 3.2 GPA or higher and demonstrate outstanding school, character, community citizenship and leadership. 
Chapman Athletic Director Greg Wilson says that Settle exceeds all of those qualifications and has been a vital part of the Chapman community during his high school career.
"He's such a great candidate for the award just because he's been great at all three of those while he's been here with us," Wilson said. "Drew has been a huge contributor to our school and our athletic program the last four years. Not only has he played multiple sports and excelled in both, but he's done a tremendous job in the classroom also."
Settle himself is proud to be recognized for his achievements in leadership and school character, especially.
"I feel like I represent my school well, and I'm a leader on my football team and in my community," Settle said. "I'm honored to be nominated for it."
The ability of Settle and other student-athletes to balance academics, athletics and community leadership, according to Wilson, will serve them well in the future.
"It's just awesome to see our guys and girls that do multiple things and not lock into just one part of the high school life," Wilson said. "They do multiple sports and contribute in so many different ways, and in the long run, (they) become so well-rounded when they can (be involved in) more things."
Your donation will support the student journalists of Chapman High School. Your contribution will allow us to purchase equipment and cover our annual website hosting costs.