The Prowl helps baseball players develop into better people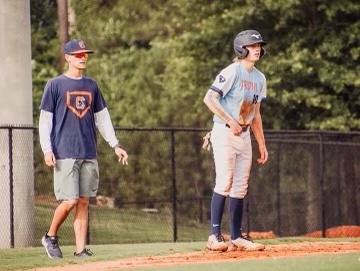 On an ordinary day in 2007, Steven Fusaro, now the head baseball coach at Chapman, changed Inman's baseball community forever. 
Fusaro knew that young boys had a need to play baseball and that it would benefit them greatly, so he decided to create the Prowl baseball program. 
Now the Prowl organization is bigger than ever and has accomplished so much.
The Prowl was created for families to stay in the community. It was originally intended for young athletes in 2007, but in 2008 it spread out to the older ages. 
But it's not just about how well they play, it is about the bond and helping each other out.
Freshman Colby Moon has been with the Prowl since the beginning. 
"We have been playing for a long time so we are really like a family," Moon said. "It benefited me as a person because he also taught me to be a better man." Playing with the Prowl has taught student-athletes how to become better players, but most importantly better people. Fusaro wanted these athletes to grow together as a family.
"It has been really neat to watch that group grow up," Fusaro said. 
Playing through the same community all of an athlete's life truly helps to make that strong connection that is irreplaceable.
The coaches get to help them grow over the years in baseball and to be better people.
Sophomore Silas Powell loves the Prowl for many different reasons. 
"I get to meet new people, and I also get to hang out with my friends and get to play the game that I love," Powell said. 
Since Fusaro took Powell on his team, he has improved greatly. 
"I have improved as a hitter by joining the Prowl," Powell said. 
The Prowl isn't just about being good at baseball but making many memories with it.
"We don't care about winning or losing, we are just one big family," Powell said. 
Fusaro created the Prowl with the purpose to help his community, help student-athletes learn the craft of baseball, and most importantly be a well-rounded and respectful person. 
"This is our life, blood and the lifeline of our baseball program," he said.
Your donation will support the student journalists of Chapman High School- SC. Your contribution will allow us to purchase equipment and cover our annual website hosting costs.